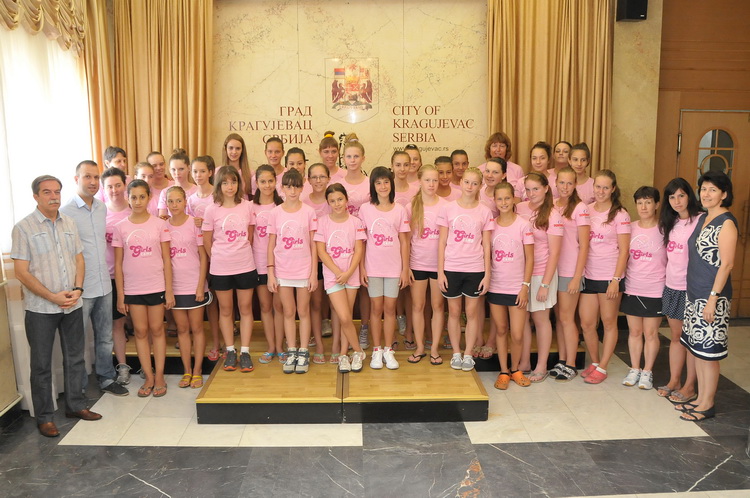 Another successful badminton camp for girls aged U 15 took place in the middle of August, 11th til the 16th, in Kragujevac, Serbia. Conceived as a regional camp, part of Badminton Europe's development programmes, with BE's financial support, this years camp united girls and their coaches representing 6 European countries: Austria, Bulgaria, Czech Republic, Hungary, Romania and Serbia. As head coach, the Scottish/Danish experienced Debbie Lynch accepted the invitation of leading the trainings and contributed to the success of this camp. "It was good to meet a couple of old friends – Marianna (HUN) and Corina (ROU)- as well as to meet the new coaches – Tina (AUT), Petya (BUL), Ema (SRB), Lukas (CZE). Language and the translating of the work involved was never a problem as the enthusiasm of the coaches made sure that the proper focus points were passed on to the players. A good coaching team who worked very well together throughout the week, many of the sessions have been videoed for the future use and reference. We agreed that the focus of the whole week should be on speed and intensity during the routines and games and to built up the core strength and speed of the players" Debbie said.
With a "nice and easy" though demanding approach of the girls and being able to read the psychological part of their character, Debbie managed to increase their motivation and at the end of the fourth day " you could visibly see the players getting stronger and quicker with better and more accurate placed shots" mentioned Debbie.
The girls were challenged to have an informative talk to the worlds and Serbia's top shooter – Zorana Arunovic – 4th place at the London Olympic Games. We witnessed her insight on how to get to the top, the sacrifices through her teenage years, the pressure around someone expected to win the Olympic gold medal and about the best feeling in the whole world to stand on a podium with a medal around your neck.
Swimming pool, park visits with barbeque, football and badminton promotion, ice cream evening, meeting the municipality dressed as the Pink Team were all social activities making the girls to feel more and more like one team, overcoming the language barrier.
Debbie concluded in her report: "I will all miss you, I have had a fantastic week, have enjoyed the friendship of all the people and players involved and seen with my own eyes the improvement of the girls on court".
To sum up – different countries, enthusiastic participants, formidable organisers, surpriseful social activities, reachable goals, intensive training, passionate head coach, one by family and friends overloaded facebook https://www.facebook.com/badmintoneurope.girls – in one word, BADMINTON.
If you want to get a feeling on how things went; take a look at our facebook page – like the 'Girls Project' page and enjoy the smiling faces!