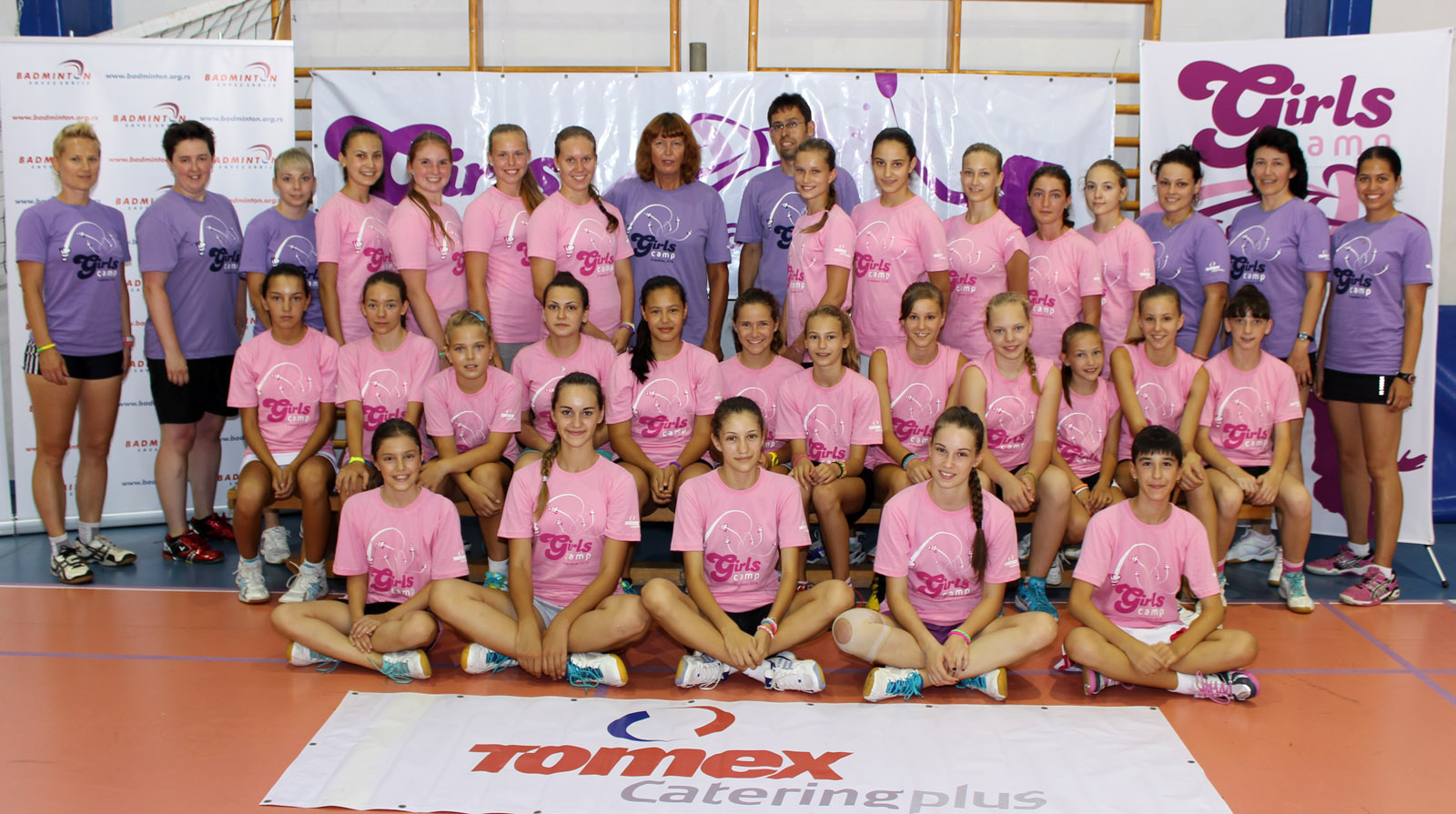 Another successful badminton camp for girls aged U17 took place in the middle of August, 10th til the 15th, in Kragujevac, Serbia. Conceived as a regional camp, part of Badminton Europe's development programmes, with BE's financial support, this years camp united girls and their coaches representing 7 European countries: Austria, Bulgaria, Czech Republic, Hungary, Romania, Serbia and Macedonia.
Organisers from Serbian national association Maria and Andreja said: " We're so proud to see that more countries are interested to be part of this project. We've had areally enjoyable week with top motivated players and coaches from more than seven European countries, and we would like to say thanks to all participants for the great work during Girls project 2014., and also to all institution that supported Girls project."
Debbie spoke about her experience with girls: "I myself do very few training camps but I personally feel that with this camp I really can make a difference. It was also interesting for me to see the player improvement levels from last year and to compare the girls to the others girls that I work with in other parts of Europe. This ability to push, to be faster, quicker and to have an understanding on what it takes to be a top or better player. I am 100% sure nearly all the girls have ideas to be better, using their abilty to try new things. Girls love challenges from an early age. Important for the coaches to take an interest in them as people and to encourage and support no matter how it goes on the court, focusing on long term development and learning skills."
About this camp in Serbia she added: "Again it was a pleasure to be asked to come one more time as the chief coach on the girls project. It was once more the top motivation of Andreja and Marija which makes this camp so successful, 100% professional and with great attention to detail. The week just flies past. The countries involved this time where Austria, Serbia, Hungary, Czech Republic, Bulgaria, Romania and Macedonia for the first time. We had a good group of coacheswith a selection of the older, more experienced and younger coaches who are learning how to work and have patience with the kids: Corina (Romania), Lukas and Martina (Czech), Tina (Austria), Marija / Ema (Serbia), Victoria (Hungary) and Kristin (Bulgaria)."
"The focus – Debbie said – was on learning to work hard, to not be afraid to push bounderies. To move fast and with good movement away from the back court fast to the net, from mid-court to the back with economical footwork instead of just running, working down in the legs. We used the coaches to implement their styles of warming up and using the new implemented strength exercises (core strength) and working on the main technical areas."
We build up an information network which was constantly refreshed (facebook, TV coverage)
Our specific facebook page: https://www.facebook.com/badmintoneurope.girls – was actively updated with photos from trainings sessions, social activities, mentoring activities with Women in Sport from Serbian Olympic Committee, meeting at the city hall, news from webpages.
If you want to get a feeling on how things went; take a look at our facebook page – like the 'Girls Project' page and enjoy the smiling faces!